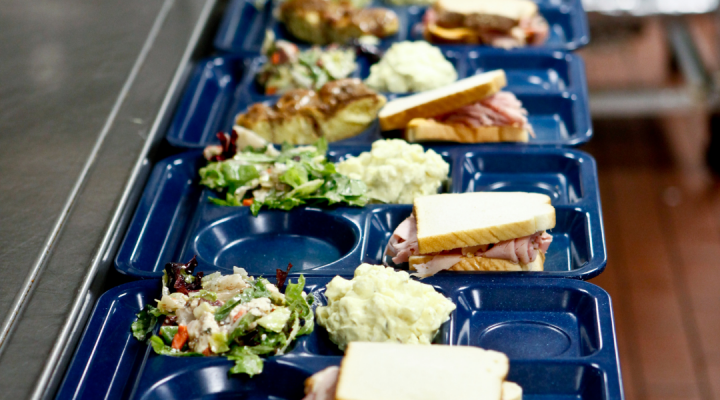 Hot Lunch
What's for Lunch?
The management and staff of the Child Nutrition Program here at The Sacred Heart School Cafeteria are happy to have the opportunity to serve your children a school lunch. We are also pleased to announce that once again...
all Sacred Heart students will eat free for the 2021-2022 school year!
---
We understand that the lunchroom is a place where extra caution is needed to keep our children safe. Please find the Sacred Heart Lunch plan below:

Logistics
Students will remain socially distanced as they enter the cafeteria from the hallway near the library. Spot markers are being placed on the floor to help them stand in line at a safe distance.
Students ordering hot lunch will hand sanitize prior to picking up their drink of choice in order to keep hands sanitized on common surfaces through the hot lunch line.
Students will be seated three to a 6'-long table. Two students will sit on one side and the third on the other side. They will alternate which side has two or one student down the line. Here is a visual:
Middle School students will be allowed to select their own seat; however, our younger children will be seated in assigned places to begin the year.
Students will remain seated unless throwing away garbage. When they stand for any reason, masks will be put back on (during mask-mandatory weeks).
When lining up for recess, students will remain socially distanced.
Students will remain masked (during mask-mandatory weeks) until they are outside. Once outside, they are expected to remain distanced as well.
Tables will be sanitized in between lunches and the floors will be swept.
Hot Lunch & Snack Counter
Hot lunch is free to all students in Pre-K through 8th grade this year.
The plan is to open the snack counter soon, but it will come with an additional cost to those who choose to utilize this service. Money can be placed in student accounts using PowerSchool. More information will follow when we are nearing the time when the snack counter to open.
Ordering Hot Lunch
We are asking all families to complete the sign up for hot lunch the night before their child(ren) are ordering lunch. Please do this by 9 pm.
Eventually, we hope to offer weekly and even monthly sign-up options!
Please use this Google Form to sign up: Hot Lunch Order Form
Volunteers
Our cafeteria runs best when we have volunteers to help! Volunteers help students open difficult packages, supervise behaviors, help control noise levels, and assist with clean-up. Please consider volunteering your time to help! You can sign up here: Volunteer Sign-up.
If volunteers are unable to stay for the duration of the lunches, please let Ms. Edie, the Cafeteria Manager, know.