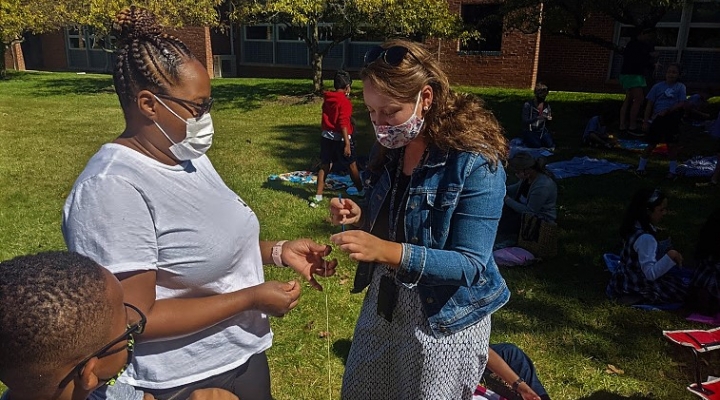 About Us
Sacred Heart School of Glyndon is a thriving Pre-K (3) through 8th grade Catholic school located in the historic Glyndon/Reisterstown area. Today, there are 443 students currently enrolled for the 2021-2022 school year. Our convenient location attracts students from the Reisterstown, Owings Mills, Pikesville and Westminster areas.
The academically rigorous program at Sacred Heart School is in accordance with the Maryland State Department of Education and the Archdiocese of Baltimore. Our knowledgeable and dedicated faculty and staff enrich the learning process for students in every grade, through the integration of technology and the implementation of creative instruction and interactive-learning.
In addition to our teachers, students have the educational support of Instructional Assistants in PreK through Middle School, a full-time School Counselor and 2 full-time, 1 part-time Learning Specialists on staff. Our students also receive instruction in Art, Music, Computer/Technology, Spanish (grades K-8), Physical Education, and Library. School parents are integral to the success of our students. The Home and School Association plans family events and student activities to enhance and support our school spirit, family atmosphere, and educational programs.

For more information, please contact our Director of Admissions, Stacey Aisquith at saisquith@shgschool or call 410-833-0857.
Learn More about Sacred Heart School of Glyndon
At A Glance: We welcome students of all faiths, socio-economic and demographic backgrounds. Sacred Heart provides a positive learning environment in which every child is challenged to develop their full potential: academically, spiritually, and morally. Learn more by visiting our at a glance page.
Letter From School Leadership: We exist to develop the unique, God-given gifts of each student in a safe, nurturing, and diverse environment through innovative academics, service to others, and spiritual preparation for a fulfilling life that follows in the footsteps of Jesus Christ. Learn more about our mission by reading our letter from school leadership.
Why Catholic Education: Now, more than ever the world needs what a Catholic education has to offer. To learn why read our Why Catholic Education Matters page.
History & Tradition: For more than a century, Sacred Heart Parish--and then Sacred Heart School of Glyndon has had a long and proud history of supporting the spiritual and educational needs of the surrounding community. Learn more about our rich history by reading our history & tradition page.
Faculty & Staff: It is the ministry of Catholic educators to embody the faith in everything they do. They model and teach children how to form a personal relationship with Jesus and build a foundation for lifelong learning and discipleship. Meet our talented and dedicated faculty and staff!