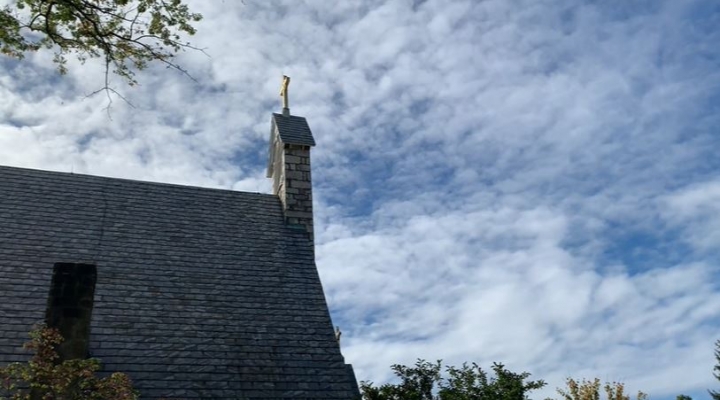 History & Tradition
A Blessed History, a Future with Heart.
For more than a century, Sacred Heart Parish--and then Sacred Heart School of Glyndon has had a long and proud history of supporting the spiritual and educational needs of the surrounding community.

In 1873, Sacred Heart Parish was established as a mission of St. Charles Borromeo Parish of Pikesville. Once construction of the Little Church (now the Sacred Heart Chapel) was complete, the parish celebrated with a dedication celebration on May 21, 1887. This chapel has been in continuous use for more than 100 years – and is still as beautiful as the day it was dedicated.
In 1928, The Sacred Heart of Glyndon Parish School was established under the direction of Fr. Ambrose Beaven of St. Charles Borromeo. The school was originally staffed by the Daughters of Charity from St. Charles who commuted from Pikesville to Glyndon each day. The school remained active throughout the 1930s, but closed for some time during the following decade. Students are transported to the school at St. Charles for daily instruction.
In August of 1956, Pastor Thomas Caulfield arranged for a new parish school to be staffed by three members of the Sisters of Charity from Greensburg, Pennsylvania.
The new school began on October 29, 1956. Teaching originally took place in a parish hall as staff and students awaited the completion of three classrooms.
The school was officially dedicated in November 1956. Throughout the next two decades, the school grew to sixteen rooms, with rooms for students in Grades 1 - 8. Eventually, enrollment increased to 800 students.
In June 1965, the White Building (now our legendary pre-school) was built adjacent to the school lobby, providing two additional classrooms.
In 1988, the classrooms were refurbished and a new science lab was added to enhance the facilities and academic offerings at Sacred Heart School.
When St. Charles Borromeo closed in 1989, Sacred Heart School is designated an inter-parish school serving the children and parents of St. Charles in Pikesville and Sacred Heart in Glyndon.
Sacred Heart underwent major expansion efforts in the 1990s. During this decade, a preschool and full-day kindergarten program were implemented; four new classrooms were added; the library was expanded and relocated to its current room; a new gymnasium was completed; and our new computer lab became operational.
Sacred Heart School welcomed the new millennium with a major expansion of the school building. Our school facility now included a new second-floor middle school wing, state-of-the-art science and computer labs, a library/media center, a foreign language lab, additional school offices and parish meeting rooms.
In 2014, Sacred Heart expanded its Pre-kindergarten program to meet the needs of our community's busy, growing families. The school began to offer full-day programs for five-day and three-day students, as well as half-day three- and five-day programs. Proud to be a trusted resource, the faculty and staff were happy to provide our community with multiple options for the quality care and education for their youngest learners.
In June 2015, Sacred Heart adopted a new mission statement—"At Sacred Heart School, we are committed to developing the unique, God-given talents of each student in a safe, nurturing environment through innovative academics, service to others and spiritual preparation for a fulfilling life following in the footsteps of Jesus Christ."
Beginning in August 2015, each student in Grades Four through Eight received a notebook computer, to enhance the learning curriculum and support the school's commitment to innovative academics through technology integration. This technology was implemented to complement our use of SMART Boards in every classroom, as well as the laptop pods in all intermediate classrooms.
Amidst the pandemic of 2020, all classrooms were outfitted with new webcams and sound bars as well as updated BenQ (smart) boards to better serve our students - both at home and in-person.
A qualified, caring, and dedicated staff, advanced instructional technology, and enhanced course offerings continue the Catholic tradition of quality education at Sacred Heart School. Today, with a vibrant, beautiful church for prayer and worship, the restoration of our historic Little Church and a thriving school, we are proud that Sacred Heart School continues nurture the intellectual and spiritual growth of our community's children, so that they may follow in His footsteps.