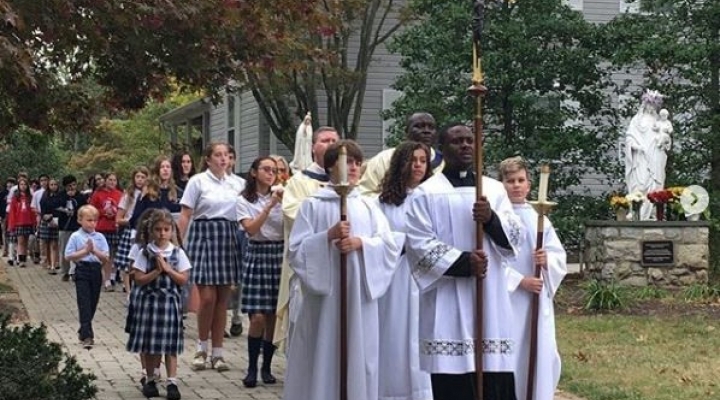 Liturgy & Sacraments
At Sacred Heart School in Glyndon, students in Grades 1 through 8 attend mass on a monthly basis. Prayer services, organized by students and faculty, are also held throughout the year.
Preparation for sacraments including First Communion and Reconciliation is provided in partnership with the parish. More information can be found on the parish website.
Our Catholic faith is infused into each part of our curriculum. We are constantly reminded to share the mission of Jesus. We start each day with a school prayer and our school community gathers once a month with our pastor, Fr. Jerry, for Mass. We also celebrate special Masses at Thanksgiving, Advent, Catholic Schools Week, Feast of the Sacred Heart, Graduation, and our End of the Year Mass. Numerous prayer services and student and faculty retreats are held throughout the year. The Stations of the Cross are presented weekly throughout Lent and are led by our own students. A May Crowning Mass and is held each spring and is one of our favorite traditions! Each special Mass and prayer service is prepared by students in a rotation grade basis. Students have the opportunity to serve in the student choir or as altar servers, gift bearers, or lectors at our school Masses.