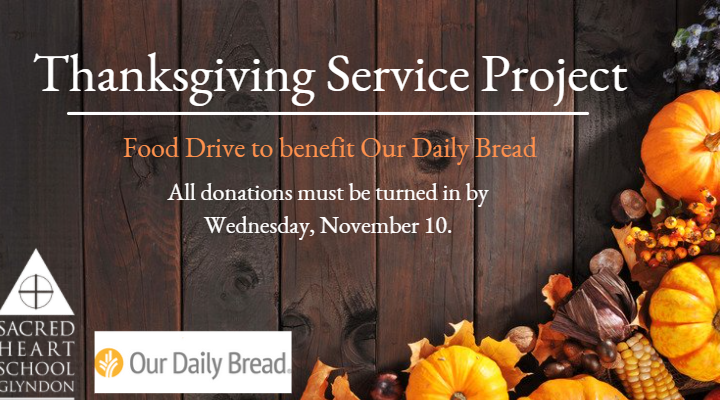 Thanksgiving Service Project - Last Call!
Every year, Sacred Heart sends truck-loads of food and supplies to Our Daily Bread to help support their efforts to feed Baltimore's hungry on Thanksgiving.
Each grade plays an important role in contributing, both in donated items and in the hard work it takes to put it all together on November 17th. Please click on your child's grade below for a convenient photo you can save to your phone for when you do the shopping.
Out of Uniform Day
To compliment all of the items we send to Our Daily Bread, we will also have a $1 (or more!)
Out of Uniform Day on November 16th.
Our Daily Bread does two things with this money.
They use some to replace silverware that is often thrown out or lost in soup kitchens, especially during the busiest holidays. This accompanies the "silver for silver" containers in each homeroom to collect loose change.
Our Daily Bread also throws a Christmas party for the homeless in December.
---
Unwanted Halloween Candy
The Outreach Committee will have bins in the main lobby to collect extra Halloween candy. If you want to get the Halloween candy out of your house and to a good cause, please consider

donating unwanted candy in the bins. The candy will be used for the Thanksgiving Service Project.
Please consider helping an awesome cause!