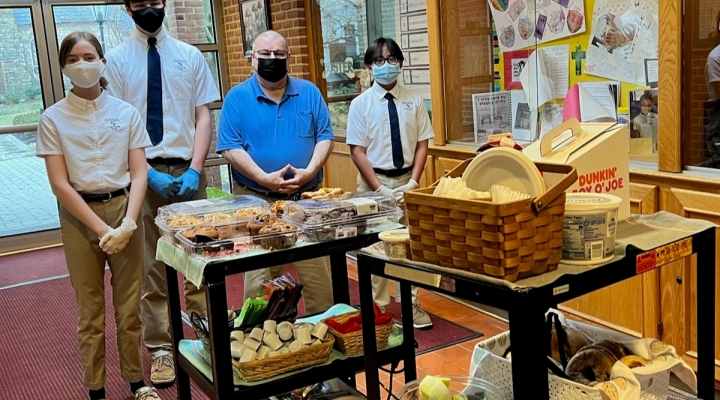 From the Desk of Mr. Keeley - February 3, 2022
Good afternoon SHG Families,
I wanted to send out a huge thank you to the Home & School Association for the faculty/staff breakfast that was served Monday morning to begin Catholic School Week (CSW). Catholic Schools Week is the annual celebration of Catholic schools across the United States. Here in Maryland, nearly 46,000 students attend 141 Catholic schools (from early learning to high school) across the state attend Catholic schools. We celebrate our families, our students, faculty and staff and our faith.
We would also like to thank all the volunteers who presented during Career Day to our students. Over twenty-two of our SHG community shared their careers on Zoom and in person to our students. The children heard about veterinarians, civil engineers, teachers, business leaders, cyber security, fire fighter, construction vehicles, physical therapy, nursing, dentistry and professional QB coach to name just a few. Our students were treated to so many different skills that our families shared.
Thank you to Mr. Kus for creating such a wonderful "mini" winter field day, enjoyed by all the students on Monday. On Thursday, the Student Council provided breakfast to the faculty for Faculty Appreciation Day and we are also holding semi final rounds for the Religion Bee with finals to be held on Friday in grades 3-8. We will film the finals and send a link for parents to view. Friday will end CSW with a prayer service.
We are so very excited about all the ongoing and future events scheduled here at Sacred Heart School. We have resumed after-school activities, planned a Spelling Bee in the spring, our Theater Arts Program has begun work on their spring play. We have added two 3D printers, twelve 3D pens to the curriculum, and Mr. O'Hara is participating in a coding program through Towson University to bring to our curriculum. We are in the process of researching digital microscopes for the middle school lab. After school Chess club will resume, National Junior Honor Society are finalizing the first SHG NJHS members in early spring.
We are planning on adding a foyer to main school entrance for added security, and additional water bottle fountains are in the works throughout the school. A TV for displaying events will soon be up and running in the gym entrance over the fireplace. BenQ Board will be installed in the Learning Support room and plans are in progress to remodel the library, the office and school gym will be painted this summer.
We are very proud of what our vision for the future of Sacred Heart School is and we welcome you to become an integral part of our community. Volunteers for traffic and lunch are always needed. Please contact the school office for information if you would also like to substitute.
Re-enrollment information is shortly to be released and we hope that you will be a part of all the excitement taking place here at SHG. As always, we thank you for choosing to send your child to a Catholic School and specifically for sending them to Sacred Heart School. We thank you for all your support and wish for God to continue to watch over you, your loved ones, and our community.
God Bless.
John Keeley-Principal
Amy Belz-Primary/Intermediate Assistant Principal
Lauren Noll-Middle School Assistant Principal
P.S. Big thank you to Mrs. Amy Belz for organizing CSW. It was amazing!